BetSided
Public bettors lose big in NFL Week 1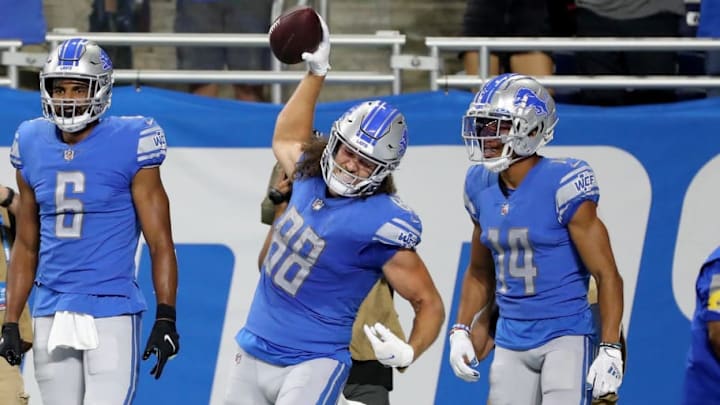 The Detroit Lions secured the backdoor cover against the 49ers to ruin what was the most heavily but on spread in the NFL in Week 1. | Kirthmon F. Dozier via Imagn Content
Surprise, surprise, the sportsbooks win again.
This is why we, as sportsbettors, should always gamble responsibly. Any time a result seems like a sure thing or a bet seems obvious, it usually isn't.
Public bettors got absolutely crushed in Week 1 of the NFL.
WynnBET Sportsbook let us know an hour before NFL kickoff on Sunday which spreads were the most bet on by their bettors, and there were five that stood out among the rest as having the most option.
Four of the five of those spreads went in the sportsbooks direction.
Over 90% of the money on the spread were on the 49ers, Rams, and Vikings in their respective games, and only the Rams managed to cover the number.
What might be even more stunning, is that of the 16 games in Week 1, only four teams that had the majority of people betting on them covered the spread. Those four teams that won for the public were Eagles (86.51%), Panthers (77.09%), Broncos (68.58%), and the Rams (95.43%). All other 12 teams that covered the spread this week had less money on them than their opponent.
That means the public finished 4-12 betting on the spread in Week 1. Tough look.
Lions Broke the Hearts of Sports Bettors
The most lopsided bet on game of the week was the 49ers to cover the 8.5-point spread against the Lions, and it looked like an easy winner for almost the entire game until Detroit made an improbable comeback to secure the backdoor cover. The cries of the 96.26% of spread bettors could be heard galaxies away when the Lions scored their 16th unanswered points.
There will be weeks this season that the public will be declared winners, but it certainly wasn't Week 1. I'm sure sportsbooks were popping champagne on Monday night when the Ravens, another heavily bet on public team, fell to the Raiders to cap off a successful week for the oddsmakers.
Fortunately, not every bettor had a bad week. Allow me to pat myself on the back here for a quick second.
I need to celebrate while I can, because there is a zero percent chance I'll be able to continue this level of success for the rest of the season. As I always say about Gamblor the Gambling God, he giveth and he taketh away.
We'll see what Week 2 brings.
---
Want to get in on the action? Download the WynnBET Sportsbook now.
This article was originally published on fansided.com/betsided as Public Bettors Lose Big in NFL Week 1.