Shaq joins Green Light, chats tension with other NBA big men, rooming with OBJ's dad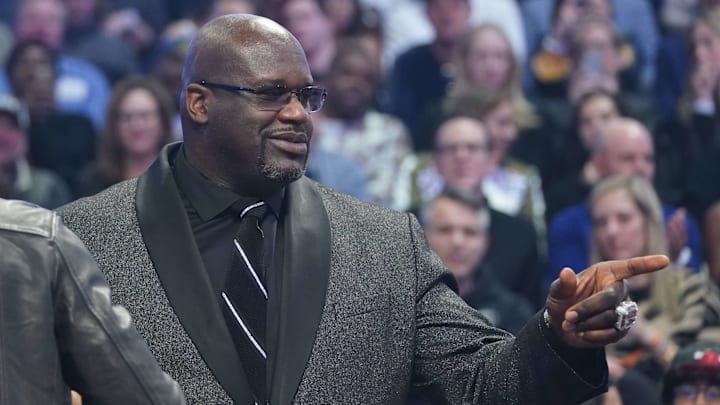 Shaquille O'Neal in attendance during the first quarter of the 2020 NBA All Star Game at United Center in Chicago, Illinois on Freburary 16th, 2020. / © Kyle Terada-USA TODAY Sports
Let's face it -- just about everything Shaquille O'Neal does these days turns into "must-see TV." Whether he's joking around on-set with Charles Barkley, or cameoing in the latest Hollywood film, Shaq is undeniably one of the most likable, marketable celebrity-athletes of his generation. Naturally, when "The Big Aristotle" took to the mic with Green Light's Chris Long, the fireworks of conversation ensued ...
How did the NBA's veteran big men take to a rookie-Shaq?
Well, according to Shaq, not that well. When Shaq was selected first overall out of LSU in the 1992 NBA Draft, basketball had not yet encountered an athlete quite like him.
Standing at 7-foot-1, 310-plus pounds, Shaq was quick and explosive for his size. Apparently, many of the all-time greats and veteran big men of that era didn't take the keenest liking to O'Neal's style. However, Shaq claims there was one big man legend who did offer out a helping hand to his rookie self: Bill Russell ...
Hey, anytime we as humans experience something so radically different, it often isn't received with open arms by everyone at first. Shaquille O'Neal in the early '90s was radically different. True, Shaq was never able to develop much of a hook shot, and had his noted struggles at the free-throw line, but let's be honest, did Shaq really need anymore advantages? I'd say he got along in life just fine without consistently being able to nail a 15-footer.
Speaking of different eras, here's what Shaq has to say about today's game
Today's NBA game is currently officiated in a way that dissuades the bluntly physical nature of yesteryear. When asked who could NOW last in the old-school, more physically aggressive era (and vice versa), listen to what Shaq had to say:
""I hate to say it. I don't really care who likes it. This era is much softer. It is what it is.""

- Shaquille O'Neal
Shaq gives props where due, giving a shout out to players like LeBron James, Kyrie Irving, and Kevin Durant among others.

Shaq and Chris talk basketball for awhile, heading down memory lane before coming on the ultimate NBA question: who cashes in as the 2022 Champion? Chris questions Shaq if Phoenix (located within WynnBET new territory ARIZONA!) has any shot at coming back for the title next season after squandering one its chance vs. Milwaukee this year. For Shaq's response and insights, see below:
No hot takes from Shaq-Diesel, here.
Shaq once roomed with OBJ's father??
Yes, apparently so! During Shaq's time on campus, the spectacular Odell Beckham Jr.'s father (OBS?) was a running back for the Tigers. Of course, OBJ would follow in his dad's footsteps and also attend LSU, setting numerous receiving marks for the school. In this clip, Shaq tells you where OBJ learned it all ...
For the full Shaq interview on "Green Light with Chris Long" on Chalk Media, watch HERE
Shaq in Action
Catch Shaq's latest commerical? Directed by and starring Ben Affleck, take a look at WynnBET's official brand campaign launch. You should recognize a few faces:
WynnBET, the premier mobile sports betting and iGaming app from the global leader in luxury hospitality, Wynn Resorts, on Monday (8/30) launched its dynamic advertising campaign starring Ben Affleck, Shaquille O'Neal and Melvin Gregg. The spot, directed by Affleck, details Affleck and Gregg's journey to the sportsbook at Wynn Las Vegas where they interact with O'Neal and sports betting enthusiasts.