NFL
WynnBET's 2021 NFL season betting manifesto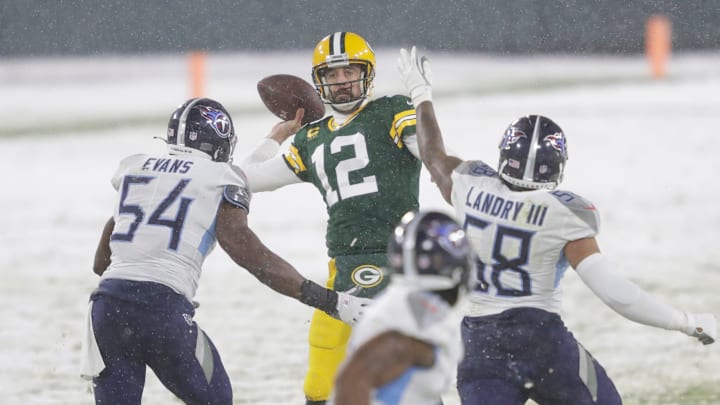 © Dan Powers/USA TODAY NETWORK-Wis via Imagn Content Services, LLC
Welcome to WynnBET's betting guide to the NFL season. Everything you need -- odds, intel, exclusives and oddsmakers' tips -- can be found right on this page. So read up before kickoff Sept. 9!
NFL Futures, Part 1
To Win Pro Football Championship (odds current as of 08/29/2021)
Kansas City +475
Tampa Bay +650
Los Angeles (NFC) +1200
Green Bay +1200 San Francisco +1300
Buffalo +1400
Baltimore +1400
Cleveland +1500
Tennessee +2000
Seattle +2000

(22 more selections for this wager on WynnBET!)
WynnBET head trader Alan Berg: "Super Bowl betting has been a lot of the usual suspects. Chiefs, Bucs, Browns, but I think the most interesting is the love for the Saints. Still unclear what they will do at QB: will it be Taysom, Jameis or a mix of the two? I do think they have a great team but losing a Hall of Fame QB is still a big loss."
Shocker: Kansas City and Tampa Bay open with the most favorable odds to win it all this season. New Orleans, solid at every spot except QB, displays great value, sitting in the middle of the pack. The Chargers and Titans are also worth taking a second look at; these teams employ playmakers on both sides of the ball, while still holding their value at the gate. Chargers second-year QB Justin Herbert is projected  to build off his OROY campaign by utilizing his favorite target, WR Keenan Allen. Additionally, the Chargers secondary will be back to full form with all-pro safety Derwin James returning from a year lost to injury. Tennessee, on the other hand, is already the reigning division champion in the AFC South. For insurance, the Titans went out and added Julio Jones to an offense that already features Derrick Henry, A.J. Brown and Ryan Tannehill. Veteran safety Kevin Byard anchors the defensive backfield.
To win AP MVP (odds current as of 08/29/2021)
Patrick Mahomes +550
Josh Allen +900
Justin Herbert +1000
Aaron Rodgers +1100
Tom Brady +1200
Lamar Jackson +1500
Dak Prescott +1500
Matthew Stafford +1500
Carson Wentz +1800
Russell Wilson +1800

(30+ more selections for this wager on WynnBET!)
WynnBET EXCLUSIVE NFL FUTURES
From us to you, here are a couple NFL futures bet options that you absolutely will not be able to find anywhere else in the digital gaming sphere:
1.

NFL Future - Trevor Lawrence - Who will catch his first career TD pass? (WynnBET EXCLUSIVE)
© Matt Pendleton-USA TODAY Sports
The NFL's most recent top draft choice is now guaranteed to start right away for his respective team (along with fellow rookie QBs Zach Wilson & Mac Jones), so anticipate this wager to close in Week 1. The hype has followed Lawrence since he was in high school. So, who will he throw that first TD pass to?!
Odds current as of 08/29/2021:
D.J. Chark Jr. +250
Laviska Shenault Jr. +250
James Robinson +500
FIELD +500
Marvin Jones +550
James O'Shaughnessy +2500
Travis Etienne Jr. +5000
D.J. Chark Jr. opens as the favorite to catch Lawrence's first TD pass. For a team that is limited on receiving options, Chark Jr. seems like a safe pick. He's coming off a 2020 season where he led Jacksonville in both receiving yardage (706) and receiving touchdowns (5).
In terms of value, think about veteran Marvin Jones. Jones has long been an established playmaker in the league. Entering his ninth active year, he's a WR that offers good physical size and incredibly reliable hands. Last season with Detroit, he netted 9 TD grabs (a feat he's accomplished three of the past four seasons).
2.

NFL Future - Zach Wilson - Who will catch his first career TD pass? (WynnBET EXCLUSIVE)
© Jeff Hanisch-USA TODAY Sports
Zach Wilson is entering a difficult situation in New York. He arrives in the Big Apple to play for a first-time, defensive minded head coach, with an offensive line that has been exceptionally porous. Wilson has had no trouble winning the starting job from the jump, but when will his first touchdown toss come, and who will be on the receiving end?
Odds current as of 08/29/2021:
Jamison Crowder +400
Elijah Moore +400
Corey Davis +450
FIELD +500
Chris Herndon +600
Denzel Mims +800
Tevin Coleman +1500
Michael Carter +1800
Jamison Crowder was NYJ's No. 1 receiver last season. Naturally, he opens as the favorite to win this wager. Crowder is coming off a year in which he led the team in every major receiving category. Although he's lacking in physical stature, he makes up for that with his tenacity. Crowder may wind up being Wilson's new security blanket.
A motivated Tevin Coleman in New York may be on display. After showing dynamic flashes in San Francisco over the past two seasons, Coleman seemed to slowly decline. However, Coleman has always been an option in the passing game, especially in the red zone; he's caught 12 touchdowns over the past five years. Right now, Coleman is (+1500) on this wager and definitely worth a thought. Wilson checking down to RBs may be a theme this season ...
3.

NFL Future - Justin Fields - Who will catch his first career TD pass? (WynnBET EXCLUSIVE)
© Matt Marton-USA TODAY Sports
Have they really found their man in the Midway? Rookie QB Justin Fields hopes to end an era of quarterback mediocrity in Chicago. Before head coach Matt Nagy is ready to turn over the keys to the car, Fields will have to prove himself against veteran Andy Dalton (who seems to understand his role as a mentor for Chicago, but also has been named the starter for now). Fields has all the raw ability necessary for success at this level. Whether or not it happens in Week 1, Week 3, or beyond, the question remains -- who does Fields turn to for the first TD pass of his career?
Odds current as of 08/23/2021:
Allen Robinson II +250
Darnell Mooney +450
FIELD +500
Cole Kmet +750
Tarik Cohen +800
David Montgomery +1200
Javon Wims +2000
As long as Allen Robinson II is in town, expect him to make plays. Chicago's receiving leader from 2020 opens as the favorite to win this wager. Last season he posted 102 catches for 1250 yards and six touchdowns. Last year's trade rumors have waned since Chicago drafted Fields. There's no telling how this ends, but for now, Robinson II is here to stay.
Jimmy Graham looks to be a valuable option for Fields. The veteran TE has been a touchdown machine throughout his football career. In 11 seasons, Graham has over 80 touchdowns. He has netted 10 or more scores in a single season on four separate occasions (most recently in 2017 with Seattle). With Graham entering his second season in Chicago, don't be surprised to see Fields look Graham's way in the red zone. At this moment, Graham is showing (+750) to cash in this wager.
Not seeing the pass catcher you want? Remember, on these rookie QB first touchdown pass futures, you can always select the FIELD.
4.

Highest Scoring Team WEEK 1 (WynnBET EXCLUSIVE)
© Mike Watters-USA TODAY Sports
Oh yes, this should add copious amounts of excitement to your NFL week 1 festivities. Already, I'm sure a few teams bolstering high octane offenses come to mind: Kansas City, Baltimore, Tampa Bay, Buffalo, etc. Naturally, that would be an insightful place to start your research & considerations.
Odds current as of 08/29/2021:
San Francisco +850
Tampa Bay +850
Green Bay +1000
Baltimore +1000
Kansas City +1000
Tennessee +1200
Cleveland +1500
Arizona +1500
Seattle +1500
Minnesota +1500
...
(22 more selections for this wager available on WynnBET!)
Let's focus on two things: matchup & value. We know teams like Kansas City and Buffalo can score at ludicrous-speed, but these two squads open against stout defenses in Week 1 (Cleveland and Pittsburgh, respectively).
From the oddsmakers' mouth: "Is it unfathomable the Atlanta Falcons 30-1 at home destroy Philadelphia? Matt Ryan looks like his old MVP-self with new weapon Kyle Pitts." -- Alan Berg, WynnBET's lead trader
Outside of Atlanta, consider taking a second look at Tennessee, who bolster playmakers across the board, and are currently reflecting solid value in this wager. They may have their way with a shuffling Arizona defense in Week 1. Look at it this way -- last season, Tennessee amassed the third-most yardage (and the fourth-most points) in the league. This year, the team returns the same offensive cast while adding all-pro WR Julio Jones. Anticipate the well-oiled machine in Nashville will be both efficient and explosive. Care to take a look down Memory Lane? It was Green Bay who led all scorers in last season's opening week by putting up 43 points indoors at Minnesota.
More WynnBET NFL odds
NFL FUTURE - Offensive Rookie of the Year (odds current as of 08/29/2021)

Trevor Lawrence +275
Justin Fields +525
Mac Jones +300
Zach Wilson +600
Najee Harris +600
Kyle Pitts +850
Ja'Marr Chase +1100
DeVonta Smith +1800
Jaylen Waddle +1800
...
(23 more selections for this wager on WynnBET!)
This may end up being my personal favorite NFL future. Last April's draft was heavily saturated with offensive talent. We have five rookie QBs entering the season with a legitimate chance to start, including two who likely will (Trevor Lawrence, Zach Wilson). Behind the signal callers, this rookie class is littered with high-profile playmakers: Kyle Pitts, Najee Harris, Jaylen Waddle, DeVonta Smith, Ja'Marr Chase etc. Let's refer back to our lead Oddsmaker Alan Berg here ...
"So far the darling of the Offensive Rookie of the Year market has been Najee Harris (+600). We opened him a bit higher than market for one big reason: Pittsburgh's O-line. There are a lot of things hanging on by a thread with this Steeler offense and it seems everyone has already started engraving his name on that trophy." It is worth noting that a RB has won this award three times over the past six years (Todd Gurley, Alvin Kamara and Saquon Barkley).
Let's think value and arrival situation, here. Harris is a hyper-dynamic back currently displaying fortuitous betting odds, but can Pittsburgh rebuild their O-line in time? The frontrunner for OROY, golden boy Trevor Lawrence, is supremely talented, but is the offense in Jacksonville ready to thrive right now? Maybe DeVonta Smith gets back on rapport with Jalen Hurts in Philadelphia? Start your research here: Take a long, hard look at your pick's direct supporting cast.
NFL FUTURE - Defensive Rookie of the Year (odds current as of 08/29/2021)
Micah Parsons +500
Jaelan Phillips +650
Kwity Paye +900
Jamin Davis +900
Pat Surtain II +1000
Zaven Collins +1200
Jeremiah Owusu-Koramoah +1400
Jaycee Horn +1600
Azeez Ojulari +2000
Greg Newsome +2000
...
(17 more selections for this wager on WynnBET!)
Let's call attention to a few disrupters for this one. Micah Parsons enters as the favorite for DROY. When you consider his motor, athleticism, and instincts, this makes perfect sense. Sent to a struggling Dallas defense that allowed the fourth-most passing touchdowns and the seventh-most rushing scores last year, Parsons will get every opportunity to make his presence felt.
CBs Pat Surtain II and Jaycee Horn disrupt the game in their own way. Both are hands-on, physical corners with the size (Surtain II stands at 6-foot-2, Horn at 6-1) to thrive at the NFL level. Will Surtain II fit in better with Denver's scheme, or will it be Horn (son of former NFL star WR Joe Horn) staying close to home with Carolina? Keep in mind, two CBs (Marcus Peters and Marshon Lattimore) have claimed DROY since 2015.
Looking for high value? Have a glimpse at LB Joe Tryon (+3000). Drafted by Tampa Bay this past April, Tryon will immediately enter one of the NFL's most explosive defenses. If the former Washington Husky can earn a starting spot, he'll have every opportunity to elevate his game alongside elite veterans that surely will draw away opposing emphasis from Tryon.
More NFL Futures featured at WynnBET:
*To win Conference(s)
*To win Division(s)
*To win DPOY
*Team EXACT wins
*Team O/U win totals
*Team to make The Playoffs
*Indiv. Passing Yards Leader - REGULAR SEASON
*Indiv. Rushing Yards Leader - REGULAR SEASON
*Indiv. Receiving Yards Leader - REGULAR SEASON
*And MORE! Download the WynnBET app today!